Most people are familiar with the phrase "addiction is a family disease," but what does this sentiment really mean? While the disease model of addiction is correct in the assertion that addiction is a chronic, progressive condition characterized by physiological changes in the brain, it tends to ignore the environmental and developmental factors which cause and exacerbate substance use disorder. This is misleading. In fact, the family disease framework depends primarily on developmental and environmental factors.
The Family Disease Puzzle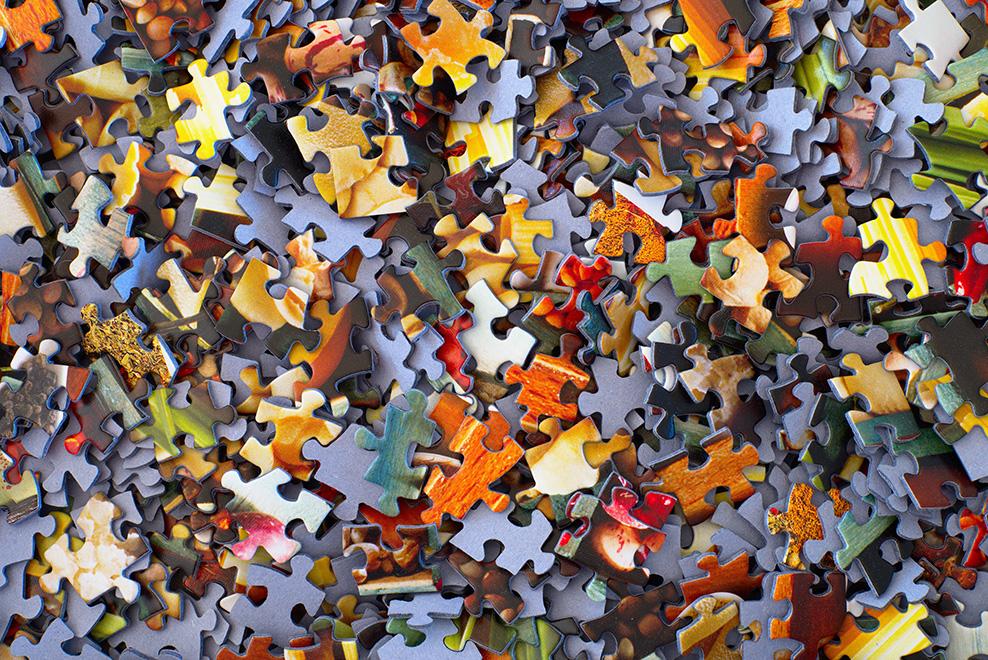 How does this work? Think of the family unit as a jigsaw puzzle. Each family member takes on his or her own unique shape or "role". When one family member is active in addiction, other family members scramble to adapt their puzzle pieces to accommodate. These accommodations – which are often unhealthy attempts to gain some semblance of control – can lead to dysfunction, disorder, and impairment. Likewise, when someone who is actively using substances is able to enter and maintain recovery, the family either grows with their loved one or preserves the previously established status quo. Alternately, the family unit will enter recovery first – thereby steering the entire puzzle toward optimal health – and the active family member will find him or herself in an environment which encourages a shift toward healing. If the active family member is still unable to seek treatment, the rest of the family will not only prevent further disintegration of the unit, but also continue to progress in a healthful manner.
The family disease puzzle illustrates one crucial point: Without intervention, the entire family will be deleteriously impacted by substance use disorder.
Family Disease v.s. Family Dis-order
The family disease model can be a hard pill for many families to swallow: "Why do I have to change? I'm not sick". The fact of the matter is that a loved one's substance use will cause familial behavior to become increasingly "out of order" or, in the words of addiction expert Dr. Gabor Maté, "dis-ordered". One might argue that "addiction is a family disorder" is a better turn of phrase.
While "disorder" may sound like an alarming prospect, it is one that unfolds in millions of households across the world, unbeknownst to the very individuals caught in the unfolding. The question, then, isn't of the legitimacy of the problem, it's of how best to intervene and change course.
5 Ways Parents Can Help Their Children (and Themselves)
1. Take care of yourself first: "You can't take care of others unless you take care of yourself first," is an expression as common as "addiction is a family disease". But how can this be true? Isn't caring for others – even when our own resources are depleted – something we all do at one time or another? The key doesn't lie in the provision of care itself, but the source from which care is given. To understand this better, consider human development:
In order to survive, an infant must attach to a primary caregiver. After all, infants are completely dependent on others to meet their needs. The attachment process necessitates establishing emotional "attunement" with the parent. Since an infant has not yet developed verbal communication skills, he or she must rely on non-verbal cues. This means that the infant senses – and is deeply impacted by – emotional stress or inattention. In other words, the emotional state and attentiveness of the parent can contribute to or detract from the child's sense of security and overall development. How does this relate to self-care? Well, from infancy onward, our loved ones benefit the most from care that comes from an emotionally balanced and attentive place. Therefore, one must ask: "How can I fully attend to others without meeting my own needs first?" The answer is simple: You can't. The difference in care will be clear – to yourself and your loved ones.
2. Nurture your relationship with your spouse and each individual child: Addiction is a humanitarian crisis. It leaves as much tragedy in its wake as periods of wartime, and its silent casualties are marital and sibling cohesion. When the family unit obsesses over how to control one child's active use, little time and energy is left for anything else. Spouses may feel neglected or rejected, and siblings may gravitate toward extremism to attract attention. Attention seeking may manifest as perfectionism and overachievement or, on the opposite end of the spectrum, acting out behaviors. Both extremes can lead to additional substance misuse, thereby perpetuating the family disease cycle. Healthy attachment isn't just important in infancy, it's a vital part of relationships throughout one's entire lifespan.
3. Teach your children how to name and cope with emotion: The ability to name, talk about, and cope with emotion begins with the parent as an individual. Are you comfortable talking about your feelings? How do you cope with stress? What kinds of coping behaviors do you model? Substance misuse is – in the most stripped down sense – an attempt to cope with the pains of reality. Prevention, therefore, relies largely on the ability to process emotion, execute healthy coping skills, and model those skills to others.
4. Allow your family members to be who they are: If active substance use is an attempt to control reality and, later, the substance use itself, then the family disease process is anchored in the presumption that one can somehow control the active substance user (or anyone, for that matter). The unifying factor is that both parties have fallen victim to the illusion of control. No one in the family will find peace until the obsession has been mitigated. Part of healthy attachment is the ability to love in a way that isn't contingent on behavior. However, this love must also extend toward oneself, and manifest through the creation of healthy boundaries. It sounds impossible, but you can love someone unconditionally while simultaneously setting limits to keep yourself safe.
5. Learn how to ask for help – The aforementioned points share a common thread. Not only do these tasks constitute a tall order, they may also require professional help and/or peer support to understand and implement. From within the "dis-order" of the family disease framework, engaging in self-care, nurturing relationships, and processing emotion may appear to be unattainable (or even unnecessary) goals. However, there is no easier, softer way to establish peace and balance. In fact, these tasks are the very stones lining the easier, softer way. The alternative is the continuation of suffering. The good news is that there are counselors and support groups available for guidance and support. Furthermore, when your active loved one witnesses you seeking support, he or she may feel safe to do the same. Either way, the process of self-growth will surely shift your relationships in a more positive direction.
Do you have a loved one in recovery or actively using substances? Learn more about Families in Recovery, a clinical family support program offered by the Process Recovery Center's clinical director, Traci Weaver, MS, MBA, MLADC, LCMHC. Families in Recovery is FREE and open to the entire community.
Autumn Khavari is the Process Recovery Center's in-house writer. She received an education in Substance Use Counseling from Beal College in Bangor, Maine.
References
Mate, G. (2000). Scattered. New York: Plume.