When I asked you to tell me about the good happening in your communities, I expected the focus of your submissions to be on grand gestures. I was pleasantly surprised to find that what many of you wanted to share revolved around the little things that make up day-to-day life.
The importance of the little things cannot be overestimated. Many people in early recovery report seeing the sunset or the flowers for the first time in years. Having become so wired to pursue drugs and alcohol, they lost sight of what makes life most meaningful. Meaning isn't chemically manufactured – it's derived from the moments we miss if we don't take the time to notice.
Thank you for sharing all the things you noticed – the big and the small – and contributing to the stream of good flowing through the world.
Our Children are the Future
Fyodor Dostoyevsky said, "The soul is healed by being with children". The truth of this statement is demonstrated by your stories and photos:
Answering the call for good news, Jen shared some words of wisdom from her daughter, Naomi, who said, "Mom, the doctor said hugs are magic. I think I need a hug".
Naomi couldn't be more right. If we've learned one thing from COVID-19, it's how much we took hugging for granted.
Hannah reported that her daughter, Nora, age 3, wrote her name all by herself! Now that is the definition of good news.
Lisa added some humor to the mix when she declared that Thomas, pictured with best canine friend, Poppy, wore the same clothes for a solid week. Poppy doesn't seem to mind!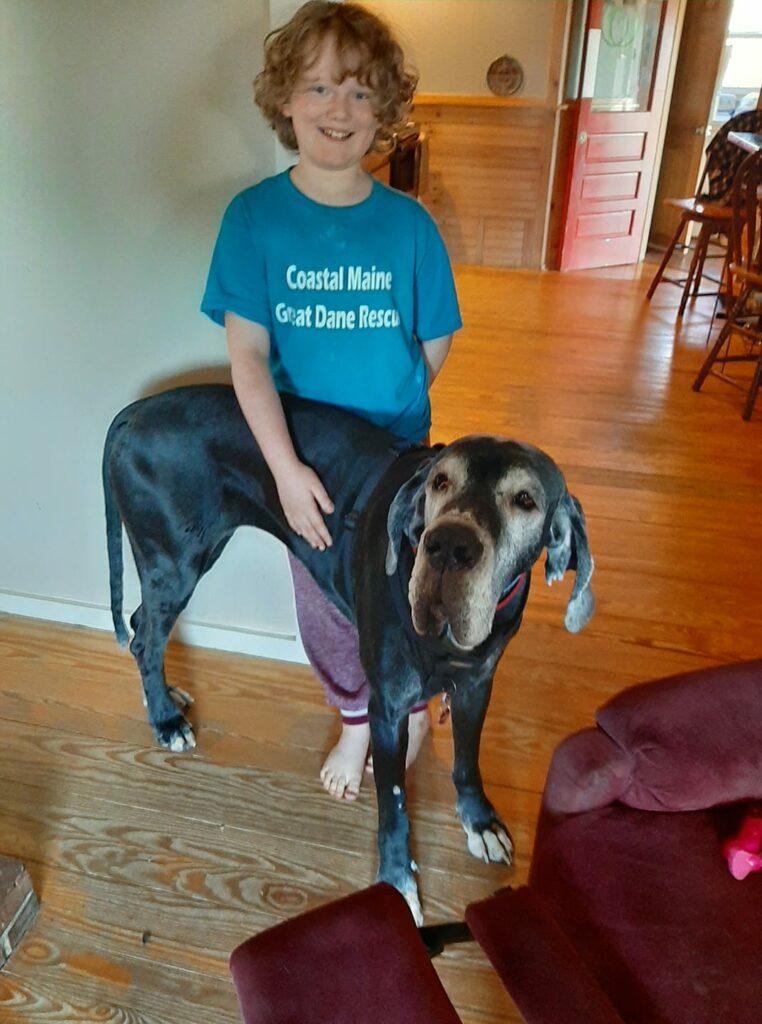 Laura thinks her charge, Zachary, is the perfect teacher for anyone looking for a little joy. There isn't much that puddle jumping and "Blanket Fort Fridays" can't fix. Seriously, though. Don't take down that fort – we'll be right there!
If you're lucky, you might have a daughter like Mia, who uses her time in quarantine to make homemade dumplings. Or you might have a son like Nate, who is happy to accompany mom, Melissa, on 2 mile walks. Keep up the great work, parents!
Cats are the New Coworkers (Dogs, too!)
The property around Joy's house is secure from a terrible threat: birds. Jett and the Shark keep a close watch so those vicious Spring robins can't organize an invasion. (That's all 2020 needs…)
Thank goodness we can insource help during these troubled times. Jenn reports that Kitty is "the tutor she can afford".
Jerry's mom, Linda, is an essential worker, so his duty is to help her unwind. He seems to have all the bases covered!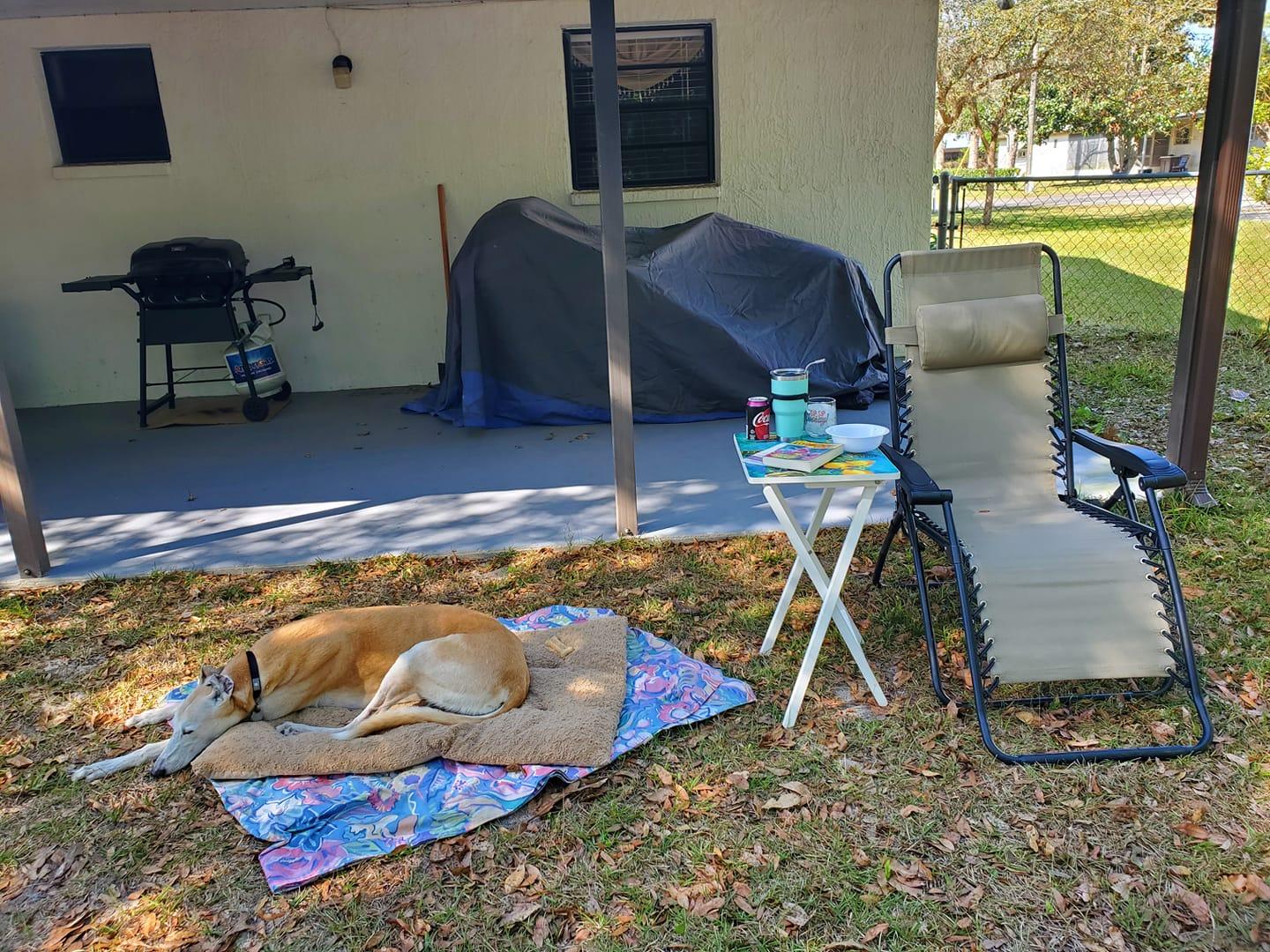 Cheryl detailed the typical work day of her new coworkers, which involves a lot of snoozing. She said, "I don't know when they get their work done…" Frankly, we like the way they do things in their office.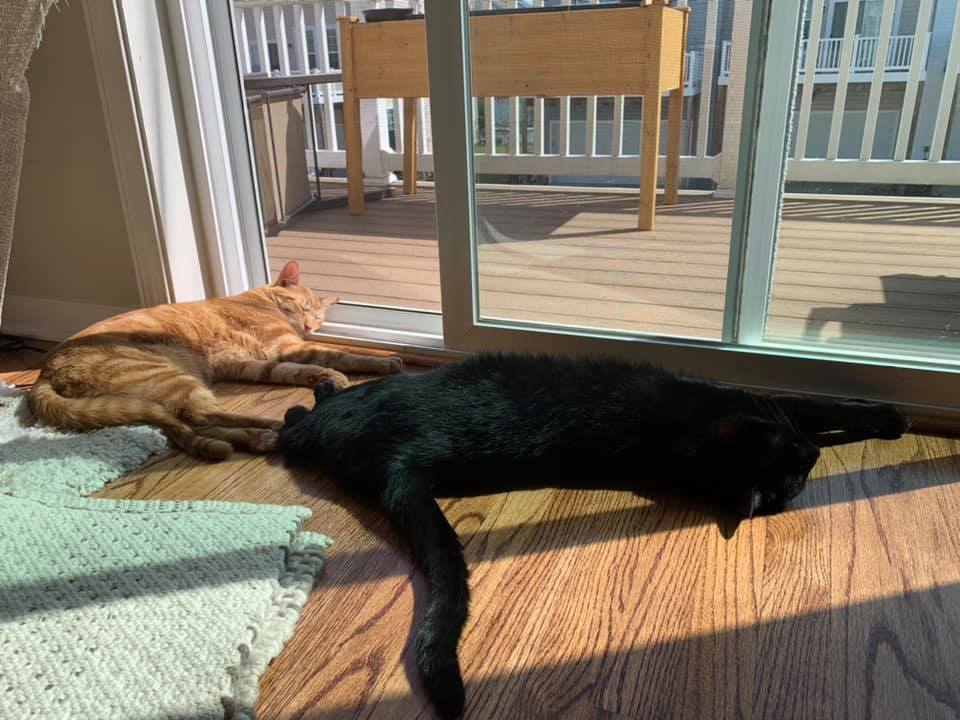 Linus is the Jack Kerouac of cats. He is "on the road". If he had a hashtag, it would be #IDoWhatIWant. Linus' mom, Sammy, said he ignored social distancing recommendations and followed a stranger home in the early morning hours. Linus spent the morning playing with a puppy and eating tuna. Sammy said, "he's bummed out that I brought him home and he misses his new friend".
We can definitely sense his displeasure. Don't be sad, Linus! We'll all be on the road again soon.
Cara's coworker made an actual contribution to the workplace. Her pup dug up a pesky burdock root. We couldn't download the video from Facebook, but we got an action screenshot. That root doesn't stand a chance. What a good pup!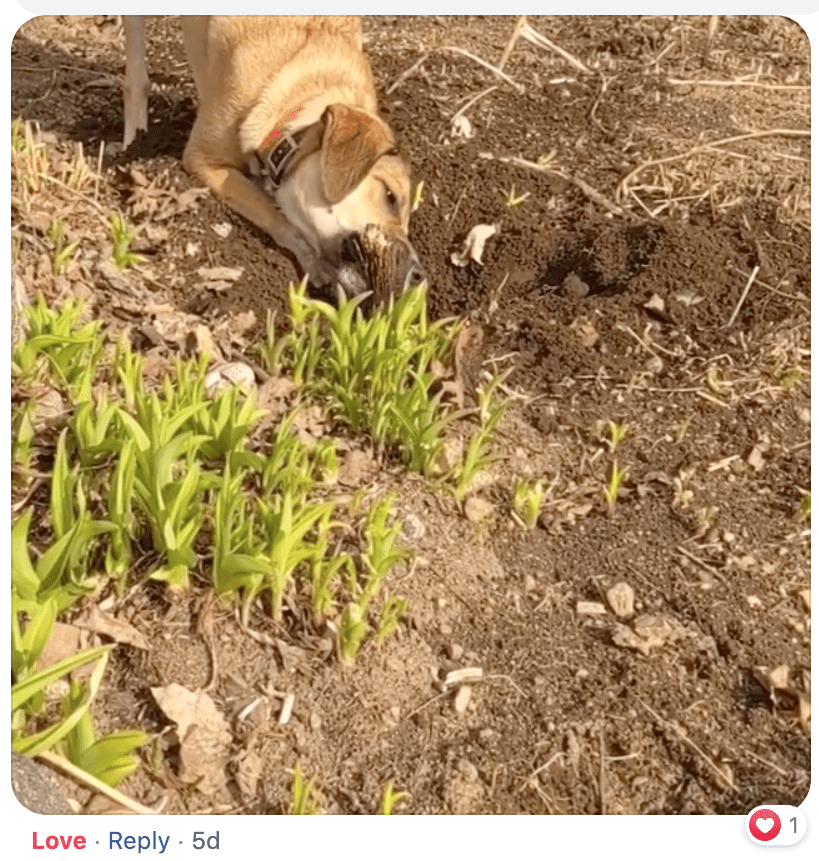 Nature Nurtures
When you need a sign that everything is going to be okay, Mother Earth delivers. Louise sent a picture of this cut tree as an example. It's smiling and giving a thumbs-up. If a tree stump can smile…well, challenge accepted. Thanks for cheering us on, little guy.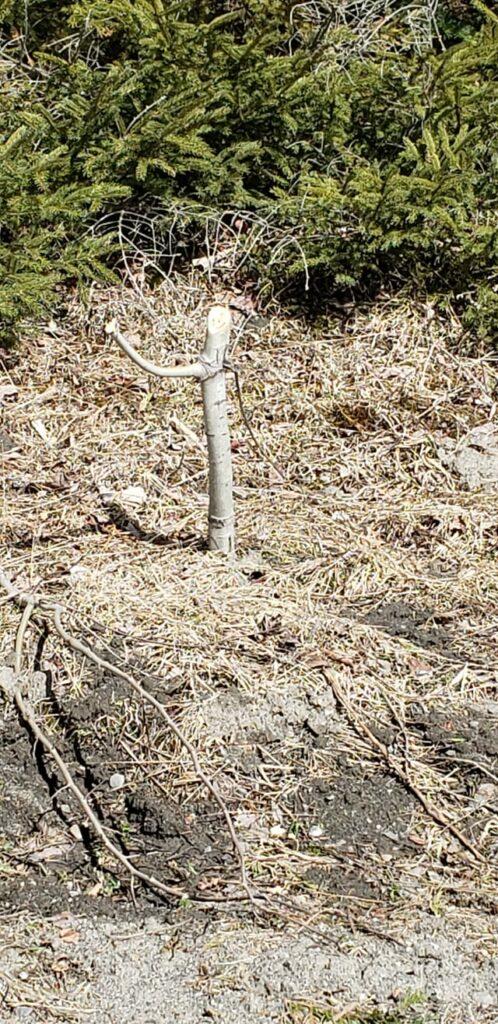 Linda is enjoying a warmer climate these days. Even in the era of social distancing, she has regular encounters with wildlife, including frogs, ibises, and protected Sandhill cranes.
No Beauty Shines Brighter than A Good Heart
In addition to sharing her pet and wildlife photos, Linda wrote, "The owner of the house I'm renting during my travel PT assignment here in Homosassa, FL, lives next door w/ his wife & 3 dogs. They're real nice & helpful but not intrusive. Anyhow, they reduced my rent by $200/mo "just because", & opened their pool, & invited me to use it anytime! (I checked w/ the CDC & they say it's safe cuz of the chlorine)".
Deserae celebrated a Maine hero who overcame incredible odds: "A man from my near my hometown in ME, who saved countless lives before a propane explosion that leveled the building, is finally coming home from Boston General after 7 months! He will be getting his long awaited hero's welcome home! Social distancing appropriate of course!"
Process managing partner, Chris DiNicola, wanted to recognize a woman he considers family, Rita Starkey. Chris wrote, "she's been making masks with her sewing machine and donating them to hospitals for free". In a span of only seven days, Rita organized a donation of 384 masks.
Last, but certainly not least, Helen sent a very thoughtful email and shared what's on her heart:
"Being in healthcare I feel like I have to help everyone. But have realized I can not do that so I have focused on two groups to help when I can. The first is the sober community knowing that quite a few of the folks who live in sober living have been laid off or furloughed from their jobs, leaving them without a weekly steady income. Also, the loss of connection with not being able to attend an in-person meeting. I have been donating food items, paper products (when I can find them). Second is Soel Sistas, LLC run by Kendra Smith in Nashua, NH. She runs a home catering business but, once the kids were out of school, she started on Monday, Wednesday & Fridays, at supper time, providing a meal in certain neighborhoods in Nashua. She says she has been fortunate because she is mostly running on donations but she puts in all the work – shopping, cooking, preparing to hand out, and then cleaning. She feeds between 150-200 people each night. I think of my daughter & son in law who says she is petrified of needles (although she does have a few tattoos) giving blood at the Red Cross".
Helen added, "My mother's motto was do one good deed a day and I do try to adhere to that".
What better note on which to end this edition of the Good News Project? Go out and do some good, look for some good, and share the good with us.
If you'd like to see another edition of the Good News Project, email [email protected]
Autumn Khavari is the Process Recovery Center's in-house writer. She received an education in Substance Use Counseling from Beal College in Bangor, Maine.