With the arrival of each new holiday season, we make it a point to offer strategies for surviving the sometimes treacherous weeks between Halloween and New Years Day. Over the last three years, we discussed how to navigate your first holiday season in recovery, how to manage money during the holidays, and some of our own holiday traditions. However, one topic we haven't tackled head-on is how to make sense of the holidays if you are the family member of a person with substance use disorder.
A Mother's Wisdom
Carol Anderson is a regular guest blogger for the Process Recovery Center, but she is also the mother of a person with substance use disorder. In a drug rehab setting, clients often articulate that they relate most to those who have had similar experiences with active addition. If you are the loved one of a person with substance use disorder, you, too, may find that a fellow family member can offer more insight than any other resource. That's why support meetings are recommended for family members and people with substance use disorder alike.
Carol encourages family members to remember that their loved ones may be overwhelmed during their first holiday season in recovery. "This might be your first holiday with your entire family and you're ecstatic about it. It's tempting to assume your loved one is "all better". Remember they are a work in progress. This doesn't mean your loved one is going to relapse. It just means that they need lots of time. Listen to them. Try to understand that what might be nothing to you could be a huge challenge for them. They might feel guilty about not having the money to buy you a gift. They might be working on their steps and are ready to make amends, and their guilt for past offenses is taking over. Certain family members might be triggering. They might be running in to high school or college friends, and comparing their (seemingly more successful) lives to their own. Keep this in mind. Even though they may be doing great, there is a lot going on in their minds".
What about the issue of alcohol at family functions? "Don't be offended if they choose not to attend an event because alcohol will be served," Carol recommends. "If they tell you this, be thrilled! They are setting their own boundaries and know their limits. That's a great thing! On the same note, if you are able, hold alcohol-free festivities. You might find that no one even misses the booze!"
In relation to the question of what to gift a person with substance use disorder, especially one in early recovery, Carol says, "if you want to give, and are unsure because of your loved one's history of selling nice things, maybe consider taking him or her out". Carol suggests a concert, live musical, movie, or favorite restaurant. Carol also notes, "if they're trying to save some money and have a few monthly bills, you can offer to pay one of them".
Advice from Our Clinical Team
Process Clinical Director, Traci Weaver, MS, MBA, MLADC, LCMHC, emphasizes simplicity in terms of both holiday expectations and holiday activities. She also highlights the importance of not just offering support to your loved one, but also seeking it for yourself. As the old saying goes, "you can't pour from an empty cup". The following are Traci's top three holiday pointers:
1. Keep expectations realistic. Healing and changing our thinking takes longer than we want. Talk with folks in a kind, supportive manner. This includes all family.
2. As family members, keep gatherings simple. Focus on spending time with people who are supportive of you also. Have phone numbers to call to get support if things are not going so well.
3. Plan for some entertainment – such as going to a movie, bowling, or taking a walk by the beach. It gives people space and it creates memories of fun.
Other Gift Ideas for a Person with Substance Use Disorder
One of the most universally stressful elements of the holiday season is gift giving. While this tradition is rooted in thoughtfulness, it can become a source of both financial and mental strain. For this reason, especially when it comes to choosing a gift for a person with substance use disorder in early recovery, it can be beneficial to heed Traci and Carol's advice to keep things simple. Instead of heaping boxes under the tree, plan for a relaxed day that revolves around making memories. If you like to do stockings stuffers, you can fill a stocking with hygiene items, candy, ornaments, or photo gifts that have little resale value. If you choose an experiential gift that is scheduled for a different day, you have the right to hold on to tickets or passes. Remember that love doesn't require sacrificing your comfort, safety, or mental wellbeing.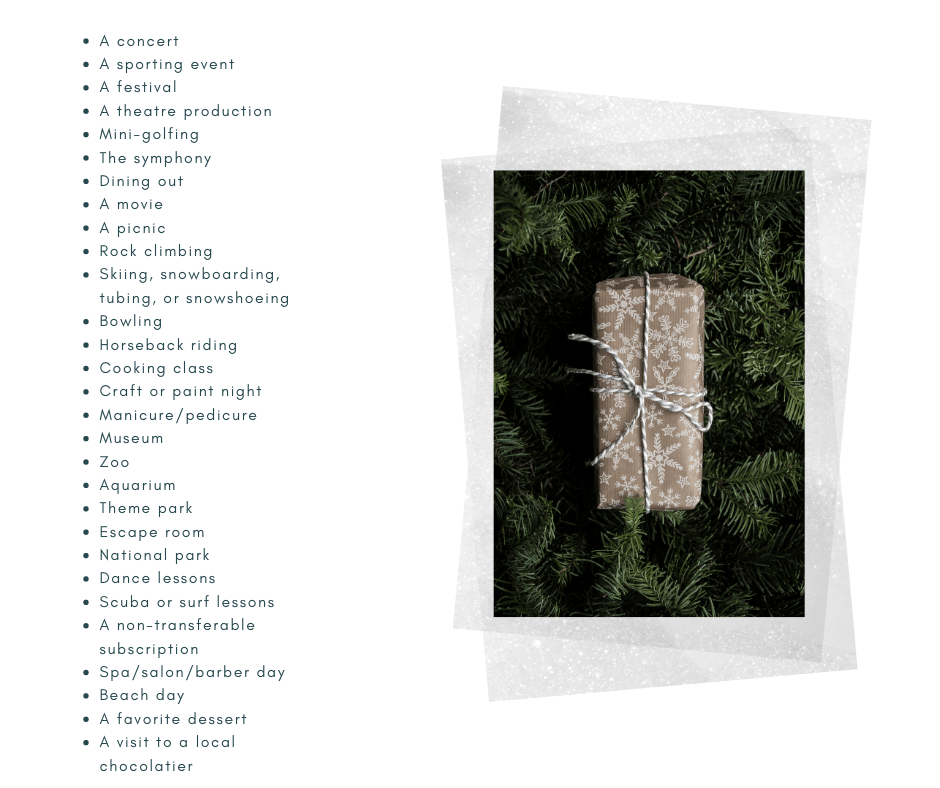 Autumn Khavari is the Process Recovery Center's in-house writer. She received an education in Substance Use Counseling from Beal College in Bangor, Maine.